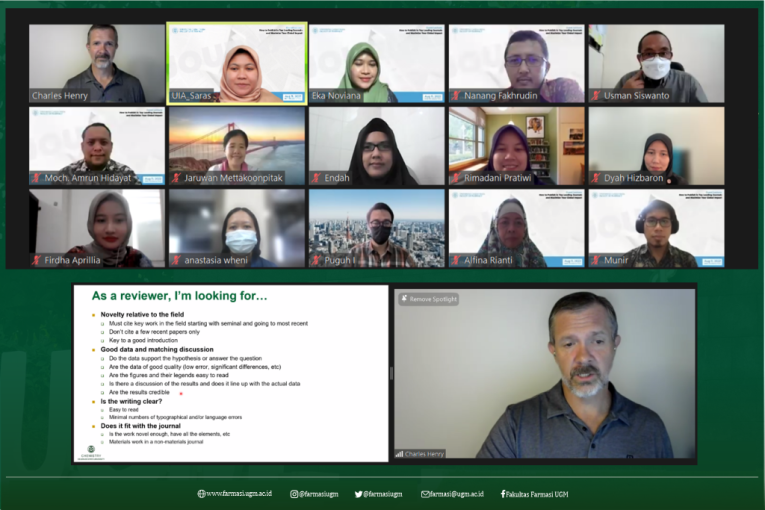 Pharmacy UGM – At 08.00 a.m. Thursday, August 11, the Faculty of Pharmacy UGM hosted an online lecture on "How to Publish in Top Leading Journal and Maximize Global Impact." The lecture was attended by a total of 125 participants consisting of students, faculty members, and researchers from Indonesia, Malaysia, Thailand, Cambodia, and Brazil.
The Vice Dean for Research, Community Service, Collaboration, and Alumni at the Faculty of Pharmacy UGM Dr.rer.nat. apt. Nanang Fakhrudin, M.Si., in his opening remark, specifically mentioned, "the lecture aims to provide understanding, know-how, and valuable experiences on how to publish our manuscripts on higher impact journals and how to boost the impact and h-index." Dr Fakhrudin also offered his gratitude and a warm welcome to Professor Charles Henry, who would present the lecture.
Professor Henry is a Professor of Chemistry and Chemical & Biological Engineering at Colorado State University, USA. He received PhD in Analytical Chemistry from the University of Arkansas in 1998 and completed a postdoctoral study in Pharmaceutical Chemistry at the University of Kansas in 1999. He is currently appointed as an Adjunct Professor at Chulalongkorn University, Thailand, and is a Co-founder & Board Chairman at Access Sensor Technologies LLC.
Professor Henry is also an Associate Editor at Analytica Chimica Acta and has authored more than 270 papers contributing to his notably high H-index, which makes him the right person to deliver the lecture. In his talk, he walked the audience through the stages of the definition of impactful science, the elements of a great manuscript, and how to write a great manuscript. (Saras)